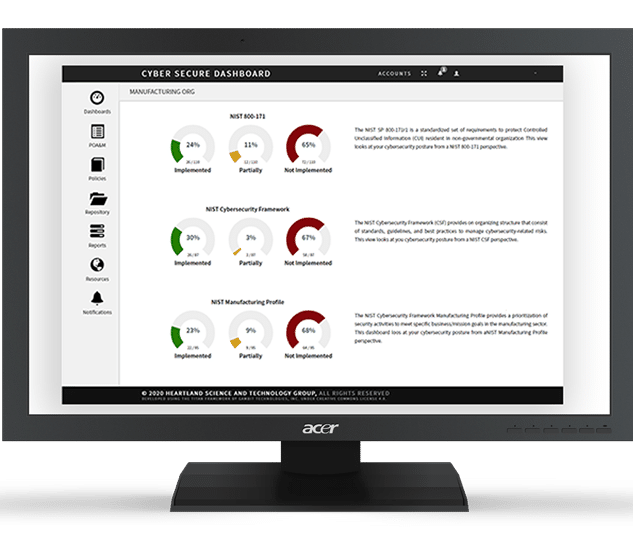 Cybersecurity Maturity Model Certification
CMMC stands for "Cybersecurity Maturity Model Certification". The CMMC will encompass multiple maturity levels that ranges from "Basic Cybersecurity Hygiene" to "Advanced/Progressive". The intent is to incorporate CMMC into Defense Federal Acquisition Regulation Supplement (DFARS) and use it as a requirement for contract award.The Dashboard provides best-practices and expert implementation guidance, combined with an innovative "learn-by-doing" approach to compliance. Intuitive, and easy to navigate, the Dashboard facilitates greater enterprise-wide cybersecurity awareness by making the process more understandable and accessible to all internal stakeholders: IT, Security, HR, Contracts Managers and Executives. It supports the sharing and vetting of an organization's cybersecurity posture with external stakeholders and trusted third parties: IT Service Providers, Security Consultants, Government Contracting Officers, Procurement Managers, Prime Contractors or Insurance Providers.
Upcoming Events
Cyber News & Events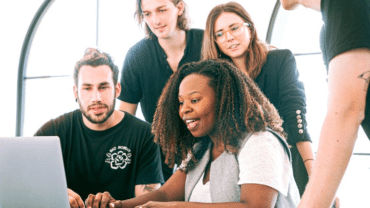 Every startup must consider their cyber security from the beginning. It is a top priority regardless of the size of your operations because cyber security for startups and businesses is essential to compete in modern markets and sustain the company and brand long-term. Hackers and cybercriminals particularly target startups as these new companies often have limited resources to invest in security. However,…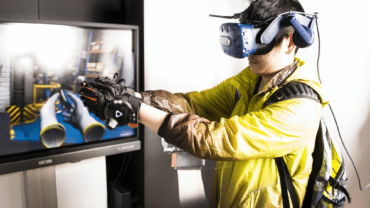 Recently, cloud computing has become increasingly popular in various industries. The education sector, in particular, has started to adopt cloud computing services to improve its operations and enhance the learning experience for students. As a result, education is benefiting greatly and cloud computing security, specifically data security in cloud computing, is becoming increasingly important as well. How the Cloud Is…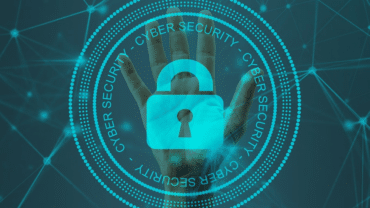 According to statistics, around 817 cases of data breaches and leakage happened in the United States in the first six months of 2022. These data breaches significantly affected around 53 million people and resulted in major financial losses for different corporations. In addition, the corporate reputation of many businesses was damaged beyond repair, emphasizing the need to invest in cybersecurity…
WHO WE WORK WITH
Partnering with a qualified and experienced managed IT technology solutions provider is a great way to implement newer tech tools for business growth. If you're looking for a NIST-compliant IT firm, get in touch with us. From Fortune 500 companies to multinational government contractors, our team builds on a wide array of experience to oversee every detail of your project.
Iviry, LLCis a NIST-compliant IT firm offering cutting-edge IT technology solutions to meet each client's unique needs. We have an impeccable group of cyber-compliance experts, many of whom are ex-military men. Our clients count on us when it comes to maximizing cloud, IT, and overall cybersecurity mechanisms in their organizations.
Our IT experts and cybersecurity analysts have worked with numerous renowned clients from Microsoft to Ingram and Cisco. We help our clients implement advanced data protection and cloud computing security best practices. Our team has helped a wide array of clients from the government, consultancy, procurement, and insurance sectors, among many others. If you're looking for top-of-the-line managed IT solutions and CMMC compliance services for your firm, get in touch with us today.