Make no mistake about it… becoming NIST compliant, and sustaining that status over time, is a no-nonsense reality and will be the foundational, non-negotiable consideration for all D0D contract awards. In no uncertain terms, non-compliance will mean that you will no longer be able to participate in DoD bids as a prime or sub-prime.

This is not the time to delay the inevitable or presume that you are all buttoned up. Internal IT teams, and the vast majority of managed services providers, typically do not have the knowledge or experience to evaluate current compliance status or manage the lift associated with attaining and sustaining actual compliance.

Iviry understands the burden, both financially and operationally, that cyber compliance can represent to many organizations.

As such, we are offering to provide Phase 1 of the CyberMentum™ solution free of charge to any organization that is serious about security and compliance.
Complimentary Cyber Readiness & Compliance Assessment
This is an onsite evaluation, typically conducted over two days, that includes key stakeholders from your organization. Iviry will conduct a full Cyber Readiness & Compliance Assessment that will provide actionable insights into your current cyber compliance status, complete with a weighted score based on actual NIST-provisioned metrics.
Complimentary Executive Security Summary
Complimentary Plan of Action & Milestones (POAM) Template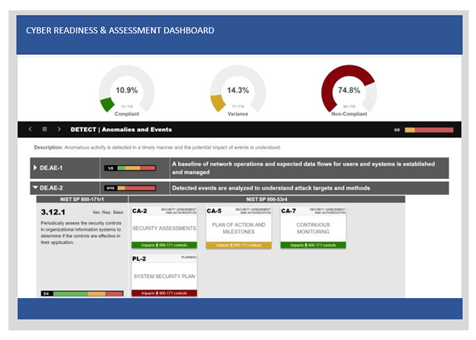 Step-by-step review of all NIST SP 800-171 cybersecurity controls in the context of the NIST Cyber Security Framework industry standard.
14 Families (domains)
110 Controls
343 Assessment Criteria
FEATURES
Simplifies DFARs compliance readiness
Reviews standardized cyber risk management processes developed by NIST
Provides a centralized repository for all compliance artifacts and compliance documentation
Streamlines third party validation
Visually tracks compliance activity and efforts
Facilitates the implementation of sound cybersecurity processes for long-term compliance to evolving requirements and standards
Enables you to avoid costly errors that could disqualify you from doing business with the Department of Defense or lead to the loss of proprietary information
For a thorough overview of your current state of cyber readiness, or for more information on how to schedule your complimentary NIST 800-171 Cyber Audit specifically, call, email or book an appointment with us today.